Dear NCAA Basketball:
You are still giving me an excuse to do nothing on a Saturday night. Thanks for that. What will I do when you end on Monday?
Dear MLB TV:
You are on my list. I tried to listen to the Reds game at work yesterday but you were trying to make me buy the audio package for $19.99 because it was a televised game. All I wanted was to hear Marty call the game but because of your rules the 700 WLW website wouldn't play it. And yes, I tweeted 700 WLW and the Reds about this. I was that mad but I got a response. Hence this letter.
Dear Michael Kors / Dillard's:
Well Dillard's, your watch trade in program was not good for me or my wallet. I'm on a budget but managed to come home with this...
The
Parker Mid-Size Rose Gold and Tortoise
watch needed to be in my collection. Technically, my first pay check of the month is today so I didn't really mess up my budget, did I? I'm still able to pay what I had planned to pay this month so I think I'm ok. :) At least I was able to resist that beautiful MK bag.
Dear Braxton:
I hope you enjoy your new black and silver collar, even if Uncle Ty says you look feminine. This coming from the guy that likes to take my expensive moisturizer. Seriously, don't listen to him. You look very handsome.
Dear Work:
It was a rough week. Students are sucking the life out of me with their neediness and attitudes. You.Are.Adults. Pull it together and stop acting like children. (I work with medical students, in case you are wondering!) You and I will need to part ways for a vacation very soon or I might lose my mind!
I hope you all have fabulous weekend and don't forget to check out my
giveaway
!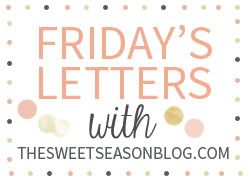 XOXO